Architect
This job is no longer accepting applications.
Architect (Part-Time/Full-Time)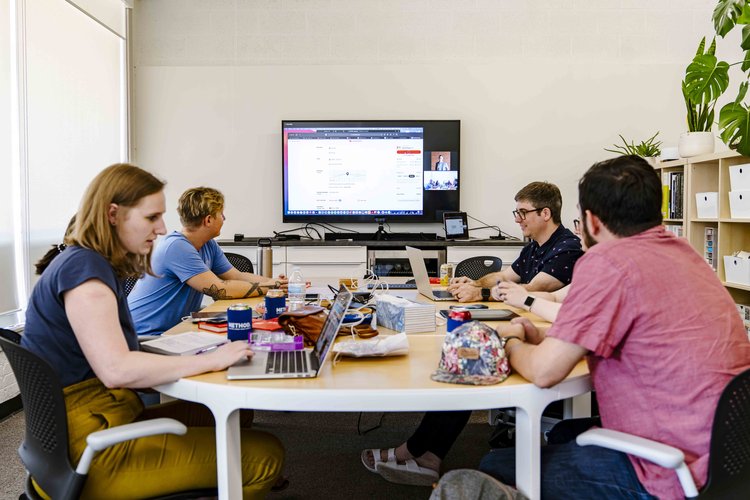 We are a progressive, digital-first commercial architecture and interior design firm with a focus on building and revitalizing communities through design. We focus exclusively on Infill Development and Adaptive Reuse projects and have a passion for historic revitalization, community consciousness and involvement, and responsible design. We are core values-driven: Pioneer Spirit, Trusted Guides, Responsive, Invested, and have Serious Fun.
Method was started with the idea to reimagine what it is architecture firms actually do. We provide exceptional service by being enthusiastic champions of our client's vision. By using new technologies and tools, we've explored various ways to involve our team and clients in a more hands-on way throughout the project process. In practice, we operate more as a collaborative goals-based team than a traditional top-down studio.
Method Group believes in creating a high quality of living for its staff and does so through transparent, equitable, and collaborative business practices. In recent years we've learned how important flexibility, autonomy, and compassion are to our wellbeing and ability to perform at our best. We intentionally designed our business to put those needs first. We know our approach is unique and while we love it, we know it's not for everyone. Still, we hope that it helps move the industry towards a more balanced, healthy, supportive culture overall.
METHOD'S QUALITY OF LIFE COMMITMENTS TO OUR TEAM MEMBERS
While the following benefits are hard to quantify monetarily, we've found they're extremely valuable given their impact on our health and happiness. We always offer:
100% remote work from anywhere with high-speed internet policy
Set your own schedule (as long as you're available for team & project meetings)
Time dedicated to pursuing a research/knowledge specialty you're passionate about
Intentional staffing to 40 hours max per week
Flexible "Life Happens" leave (paid and unpaid) and firm-wide mental health days
Meaningful, fun projects with great clients and supported by our communities
Mutual mentorship - we educate one another and host learning sessions regularly
Exposure to all areas of practice and business development
A tech-forward, cloud-based setup with the latest tools, systems, and resources available to set you up for success
Coffee, Drinks, and Snacks provided
Birthday Day off
BENEFITS (PART-TIME EMPLOYEES):
401k Available
FSA Available (Health and Childcare)
Paid Holidays (calculated by average daily hours worked)
Robust company-issued tech package
BENEFITS (FULL-TIME EMPLOYEES):
401k Available
FSA Available (Health and Childcare)
Paid Holidays (including 1 week in the summer, and 1 week at Christmas)
Flexible PTO policy
1 Association Reimbursement
Health insurance through Aetna
Dental/Vision insurance
Robust company-issued tech package
POSITION COMPENSATION DETAILS:
Expect approximately 20 hours per week for Part-Time and 40 hours per week for Full-Time.
Hourly rate of $25-$50 per hour for Part-Time or $65-90k annual salary for Full-Time, depending upon experience and skills
Possibility for Part-Time position to expand into full-time role, depending upon our workload and the individual's desire to increase their hours expectation
Annual Bonus potential
OUR IDEAL PERSON SHOULD:
Fit and exhibit our Core Values (Pioneer Spirit, Trusted Guide, Responsive, Invested, and Serious Fun)
Thrive in an innovative environment of accountability, change, and adaptability
Be passionate about human-centered design and the impact on the individual
Be passionate about architectural materiality
Have working experience with Infill Development, Senior Living, and/or Multi-Family project types
Be able to thrive in a digital-first firm
Be a team player
Be proficient in Revit
Be able to manage a task-based Project Management software (Trello)
Be able to manage a project schedule and create the appropriate tasks from that schedule
Be comfortable with an Agile-style project management philosophy
Be an excellent communicator through digital means
Be comfortable with some travel as-needed for projects or full-team company retreats. (2-3x per year total anticipated travel)
RESPONSIBILITIES:
Meet with clients to analyze, conceive, and develop architectural solutions to their goals
Be the champion for the design of the project from beginning through completion
Plan project budget, milestones, tasks, and schedule and track project performance
Coordinate and oversee the preparation of drawings
Coordinate workload through all phases to complete projects on schedule
Direct and coordinate with the engineering disciplines and third party equipment vendors, reviewing construction documents for areas of conflict with all disciplines
Write/edit or direct development of architectural specifications
Plan, initiate, and run project meetings, setting agendas, and issuing meeting minutes
Ensure code and accessibility compliance utilizing building, life safety, health, and accessibility codes
Coordinate addenda, ASI, RFIs, PRs and Change Orders and incorporate agreed upon changes into the project documents
Analyze and negotiate pay applications and change orders
Report project completion for billing, approve invoices, and lead any necessary collections activities
Provide supervision and guidance to others assigned to facilitate the delivery of a project
EXPERIENCE AND CREDENTIALS:
Licensed and/or Registered Architect in at least one state in the U.S. (International licensure will be considered)
NCARB certification and eligibility for reciprocal licensing in other states required
Revit knowledge required.
5 to 10 years of experience preferred
LEED or other sustainability credentials are a plus
Equivalent combinations of education and experience will be considered.
TIMELINE:
We will accept resumes until 3/08/2022, with an anticipated start date of 5/1/2022
Candidates selected to interview will be notified by 3/11/2022.
We will maintain your privacy and confidentiality throughout the process.
If selected to interview, you can expect to move through the following process:
1. Initial interview with Josh Kunkel, focused on overall qualifications, core values and culture (30 mins - Zoom)
2. Skills and Work Style discussion with Drew Harbour and Josh Kunkel (1 hour - Zoom).
3. "Meet the Team" fit and culture meeting (2 hours - Zoom or In Person)
4. Salary and Benefits discussion with Josh Kunkel (15 mins - Zoom)
5. Offer letter extended via E-mail.
COVID-19 Considerations: Safety and responsibility are extremely important to us. Vaccinations Required.
Examples of job responsibilities are not intended to be all‑inclusive. Method Group reserves the right to assign additional responsibilities as needed. An employee shall not pose a direct threat to the health or safety of other individuals in the workplace. Method is an Equal Opportunity employer.
Apply
Your application has been successfully submitted.